What styles are among the trend necklace models, we share with you in our article. This year, fashion trends continue to be popular. If you want to jazz up your outfit, nothing is better than the right jewelry.
This blazer, sweater or dress will totally turn out to be awesome with the right kind of thick necklaces or flashy earrings. We are here to show you what other types of necklaces you can wear to give your clothes a new life time.
In this post, we take a closer look at some of the stylish gold necklaces for 2020 and give you a brief idea of how you can accessorize them.
Trend Necklace Models
There are many necklace styles among the trendy necklace models, but letter necklaces are at the top of this list thanks to their timelessness.
These necklaces are also quite meaningful and you already know that you can never go wrong with meaningful jewelery.
Letter necklaces give a beautiful look and can be worn year-round.
If you like personalized jewelery, letter necklaces will give you a simple and refreshed look every season.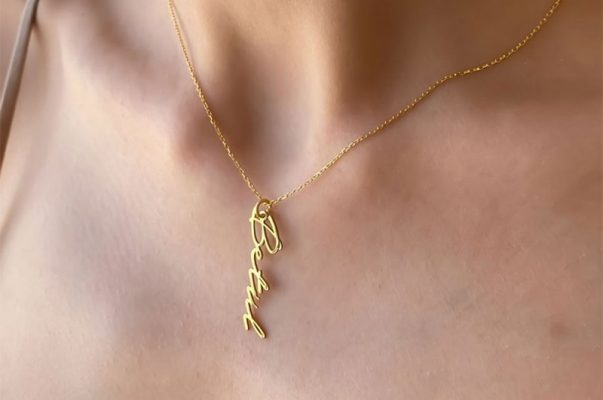 Name Necklaces
Named necklaces have become the most popular item of fashion once again and are literally among the trendy necklace models right now. With so many celebrities finding personalized name pendants to suit their style. These famous trendsetting phenomena have turned their named necklaces into fashion accessories for the year 2021.
For this reason, named necklaces first became a trend in the 1980s, but still manage to be the center of attention today.
Originally, named necklaces were seen as a luxury item and were appreciated as fine jewelery. But in 2020, Hollywood stars are often seen with name necklaces. These necklaces have since been transformed into a signature fashion look and a special jewelry style in 2020.
Statement Necklaces
Statement necklaces might not be your everyday jewelry look, but when paired with the right outfit, you can be sure to draw attention. Bold, flamboyant necklaces will enliven any outfit, including your formal office wear. For many more years we don't expect flashy statement necklaces to go out of style.
If you are not sure how to wear your Statement necklaces, you can use a buttoned blouse over your V-neck, basic / casual t-shirt. It may be a different choice to combine your statement necklace with thinner necklaces to create a visual balance.
The only thing you need to be careful with is to overdo it. So, we recommend that you keep it in proportion.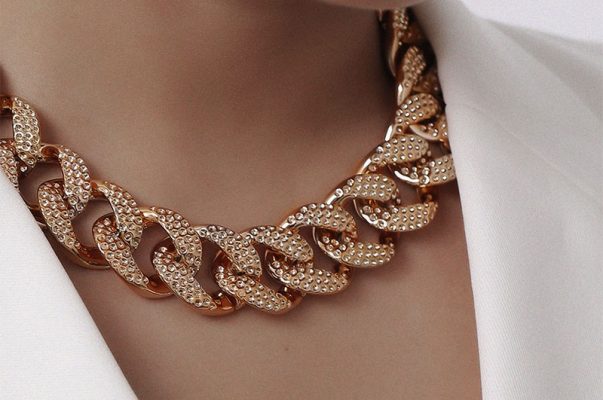 Crystal Stone Necklaces
Crystal stone necklaces are said to be one of the most magical style jewelry models this year. We witnessed the presence of crystal stone necklaces on the catwalks of many fashion giants, from Lady Gaga to Balenciaga.
Crystal necklaces are very effective with dresses and one of the most important things to keep in mind is that they have sparkles that will make you stand out in evening wear.
We would like to remind you that crystal necklaces are very stylish and colorful crystals are compatible with countless wardrobe styles.
Chunky Necklaces
There is no doubt that thick necklaces continue to be stylish in the last days of 2020. Chunky necklaces seem to continue to be a big part of fashion in 2021.
Chain Gold Necklaces
Looking at the most fashionable jewelry pieces of 2020, we have to say that chain gold necklaces are often used. We believe this is because gold jewelry will never go out of fashion. As pearls, crystals, and natural stones become popular, gold remains a timeless necklace option and you can easily dress it up or down.
And what are your favorite necklace models for you? We are curious about your thoughts.