Valentine's Day Discount with you can find the most special and romantic Valentine's Day gift options that will suit your love and be the symbol of Orya Jewelery. Solitaire rings that will symbolize the bond between you and your lover. Simple fashion bracelet models will make your lover feel special.
Valentine's Day Discount
We are preparing to celebrate the Love Day, which reflects the purest state of love, in a special way every year. Make them happy. By preparing special surprises for your loved ones in this romantic day that you will celebrate with your spouse or your lover. Of course, one of the features that make Valentine's Day the most meaningful will of course be your gift choice.
Valentine's Day Discount Campaign is valid between 14.02.2020 and 15.02.2020. All products specially selected for Valentine's Day are offered discounts of up to 40%. Product quantities may differ depending on the stock availability. In credit and installment payments, commission rates applied by the relevant bank can be added. The campaign is limited to stocks.
The campaign cannot be used or combined with any kind of campaign, discount, promotion, gift vouchers and similar situations offered and to be presented under the name of Orya Jewelery.
On the day of love, gold models take the first place among the gift alternatives that describe love in the best way and can be permanent for many years. With the accessories that can be both valuable and permanent. You can show your love in the best way with the special parts that will be kept for a lifetime.
On this Valentine's Day, the most romantic gifts are waiting for you in their rich jewelry collections suitable for all tastes and ages. We are excited to present you the most meaningful and most memorable gifts in Orya Jewelery on this Valentine's Day. Make your love last for a lifetime with Orya's stylish necklace, bracelet. Ring or earring models. For these most meaningful accessories that your lover will never want to take off, all you need to do is check out Orya's special products for Valentine's Day.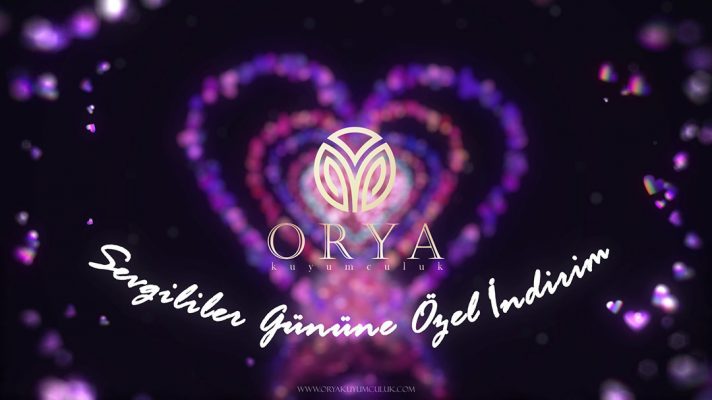 When is Valentine's Day?
The Valentine's Day, which is celebrated every year on February 14, comes across Friday in 2020. Another name for Valentine's Day, which is celebrated on the same day all over the world. Is St. Valentine's Day. Couples who love each other are celebrating this day with gifts and special programs every year.
Orya Jewelery reserves the right to make any changes and legal rights regarding the subject and scope.
You can browse the Campaigns page for all other Orya Discount Campaigns full of surprises.